03 Jun

Printing Your Social Distancing: Signs, Stickers & Decals.

Businesses around the world are printing Coronavirus Covid-19 materials to promote social distancing. Some, like groceries, have so much signage and directional arrows throughout their store, while others are keeping it subtle with one sign just before you walk in through their doors. Most importantly communicate with you customers and let them know how your company is promoting social distancing. We are all trying to effectively stop the spread by placing social distancing signs, stickers and decals in our retail shops and restaurants. As a business owner in Calgary, Alberta the process to set the wheels back in motion has been overwhelming, but we're all in this together. These are our printing tips for locally produced social distancing signs, stickers and decals, with a quick turnaround, to help your staff and customers feel at ease.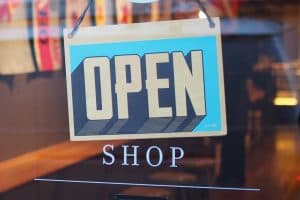 Signs 
"Come on In. We're Open." Let. Them. Know. There is no better time to hang this ever so common sign. Businesses here in Alberta are opening gradually and everyone is confused about who is open for business. Then know the compulsory signs and information your city needs you to communicate and take the time to visualize what your customer's experience walking into your store. "Please Wait here" and "Please Sanitize" are all signs that come to mind during this Coronavirus Covid-19 pandemic. Also, most if not all, businesses require staff to wear face masks which will make explaining new procedures a bit more challenging. "Can you repeat that? What? Come again?" your staff and your customers will take few deep breaths during this conversation. Therefore, make sure your signs are in a legible font as your customers will rely of them and do not have all the instructions on one sign. For example, think about having a banner or an A-Board outside your door or two if you have a big store front, one on each direction. If you have a restaurant, a tent card on each table explaining small details, like how customers are going to place an order or pay the bill. At PrintHound, we can help you create custom signs or provide you with a standard Coronavirus Covid-19 signs at a competitive price.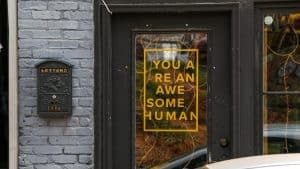 Stickers
Gone are the days of once you stick a sticker it turns to this impossible sticky mess to remove. At PrintHound, a local professional print shop in Calgary, you will find one-way vision window stickers, which you can stick outside but would be totally invisible from the inside. Great for a restaurant to keep their setting clutter free. Another sticker option is the fabric textile sticker designed specifically for walls. With this option, you are able to use it multiple times as it is easily removable but will remain adhesive. Some of the sticker options are easily installed while others would require a professional installer. PrintHound offers a comprehensive service for business in Alberta and covers the entire print production process: design, artwork, print, delivery to installation.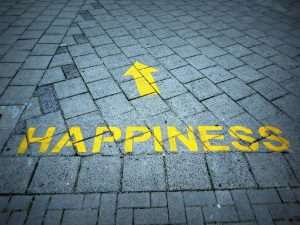 Decals
Floor decals are great if you are looking to setting up one-way direction aisles in your shop. Another use of social distancing floor decal is ensuring your customers are queuing up 2 meters apart to enter your store or even at the cashier. Please note there is a permanent long-lasting option and a temporary, approximately three months depending on the foot traffic. So, order and consider the price range offered based on this information. Did you know there is a floor decal designed specifically for outdoor uneven surfaces such as bricks?
If you would like to know any further information or need help to order any signs, stickers or floor decals get in touch with us for your free no strings attached quote and advice. We are PrintHound, a local Canadian company offering quick turnarounds on custom quality print and promotional products.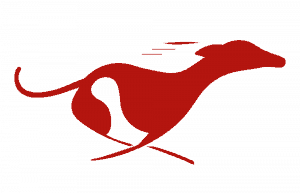 About the Author
Hi! I'm May, and I'm the Co-Founder and Marketing Manager at PrintHound Production House in Calgary, Alberta. I enjoy using my advertising, print & marketing knowledge to inspire businesses to explore their full potential on how to elevate their brand to that next level.